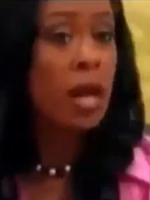 Wendy is the host of the "Wake Up, It's Wendy!" Television show. It takes her 20 minutes after every episode of her show to stop talking in her crazy voice, which does annoy people. She always keeps her eyes wide open and hardly blinks. "Wake Up, It's Wendy!" Is a parody of The Tyra Banks Show. Some of Wendy's funny famous lines are "yes you are yes you are", "tell us, tell us!", and "it takes me 20 minutes to stop talking like this is really does it really does."
Wendy is portrayed by Sandy Brown.
Appearances
Ad blocker interference detected!
Wikia is a free-to-use site that makes money from advertising. We have a modified experience for viewers using ad blockers

Wikia is not accessible if you've made further modifications. Remove the custom ad blocker rule(s) and the page will load as expected.