Traci Van Horn
is
Hannah's
friend and
Lola's
frenemy. She is seen in 11 episodes (listed below).
She has a squeaky voice ("It's A Nasal Condition!") and does what she can to get under Lola's skin. She is even getting on Miley's (Hannah's) nerves sometimes. She almost married Jake Ryan but it was revealed as a prank.
Known Facts
Traci has sinus problems, hence the squeaky voice.
Traci attends Hannah Montana concerts backstage.
Traci throws parties where well known celebrities are invited.
Traci is the host of charity events.
Traci once shot a snot rocket so big it hit both of the Olsen twins.
Traci thinks Lola is "so uncool".
Traci does not like her own mother. She even lets her mother being escorted out of a party by security.
Traci uses the newest Z-phone.
Traci has a masseuse called Svetlana.
Traci hires a fake boyfriend or what she calls a "faux beau".
Appears in
Gallery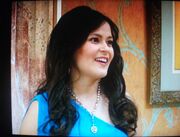 Ad blocker interference detected!
Wikia is a free-to-use site that makes money from advertising. We have a modified experience for viewers using ad blockers

Wikia is not accessible if you've made further modifications. Remove the custom ad blocker rule(s) and the page will load as expected.