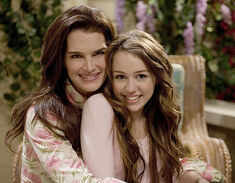 Susan Betrice Stewart (née Shields) (April 25, 1969 — June 25, 2003) portrayed by Brooke Shields, was Robby Ray's wife and the mother of Miley and Jackson. Susan died in a car crash three years prior to the start of the show, but is often mentioned by the family and is seen in pictures around the house.
Susan also appears in home videos and previously recorded advice-filled videos for Miley. She also appears in various dream sequences throughout the show. Susan and Robby Ray met on the west coast of a small roadside diner off Interstate 10, where Susan was working as a waitress during her college days. On his way home from a concert, Robby had car troubles and stopped by in the diner while he waited for the repairman. At the time, Susan was already involved with someone and had turned down Robby's invitation to go out on a date. However, Susan went out with him after he continually came after her. Though Susan was a supportive parent, she was more strict than Robby. She wouldn't let the children have sugar before bed because it gave them nightmares. She was a "skilled shopper," and had a great taste in fashion. Susan died at about 32 when Miley was 10, due to a car crash. However, in "He Could Be The One" Miley watched a video with Susan in it, saying that she probably wouldn't be there to help her with boy trouble, so it is possible that Susan knew she was gonna die. So for her last few days, Susan wanted to make the video to show to Miley that since she won't be there, she's still helping Miley. Susan once gave Miley an ankle charm bracelet, which says "Dream," when Miley revealed that she wanted to be a singer. Miley lost the anklet in "Super (stitious) Girl" when it was in the hands of London Tipton. When Miley said the diamonds on the anklet were fake, disgusted, London threw the anklet overboard, Miley losing the anklet. She made a brief appearance in Hannah Montana: The Movie in a picture and she was moving but had no lines.
Ad blocker interference detected!
Wikia is a free-to-use site that makes money from advertising. We have a modified experience for viewers using ad blockers

Wikia is not accessible if you've made further modifications. Remove the custom ad blocker rule(s) and the page will load as expected.