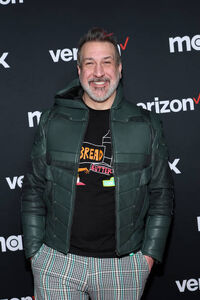 Joseph Anthony, Jr. (born January 28,1977) is an American singer, actor and television personality. He is best known as a member of the American pop group, 'N Sync, in which he sang baritone. In 2007, he came in second place on the ABC reality show Dancing With The Stars. He is also the host of the American and Australian versions of The Singing Bee. He is nicknamed "Fat One", as a pun on his last name, in reference to his size compared with other N'Sync members who were not built as heavy.
Joey Fatone is an ex baseball player.
Episodes
Ad blocker interference detected!
Wikia is a free-to-use site that makes money from advertising. We have a modified experience for viewers using ad blockers

Wikia is not accessible if you've made further modifications. Remove the custom ad blocker rule(s) and the page will load as expected.