Not to be confused with Jesse McCartney.
Jesse






General Information
Gender:
Male
Eye Color:
Dark Brown
Height:
5'11
Occupation(s):
Band Member
Family & Friends
Family:
Father (Deployed)

Niece (un-named) Grandma (un-named) Mother (un-named)

Friends:
Miley Stewart (Girlfriend)
Enemies:
Jake Ryan
Series Information
First seen:
He Could Be the One
Last seen:
Wherever I Go
Portrayer:
Drew Roy
Jesse is Miley Stewart's love interest and current boyfriend. In "He Could Be the One", Miley repeatedly tries, but fails to tell her dad that she's dating Jake Ryan again. Soon, Jesse winds up believing that she's hiding something from him. To make her father thankful for Jake, she pretends to like Jesse, but gets in over her head when she starts to have feelings for him, so it's up to Miley to listen to her heart and choose the guy who could "be the one."
In the end, she tells Jesse that there is just something between her and Jake that is special and chooses him over Jesse. Later, in It's the End of the Jake as we Know it, Miley discovers Jake cheated on her and breaks up with him for good, allowing Miley to finally go out with Jesse. Then, in "Been Here All Along". Miley cancels a special father-daughter afternoon with her dad to go on a first date with Jesse instead. After Jesse receives a phone call from his deployed father, their heartfelt conversation leads Miley to realize how fortunate she is to have a father. They eventually start dating and Miley tells him she's Hannah Montana, but little did she know Jesse already knew because he saw that Miley and Hannah have the same beautiful eyes and smile. Also, the fact that Hannah held a concert for children whose parents were stationed overseas just two days after Jesse told Miley about his dad being stationed overseas.
Personality
Despite his bad boy image, Jesse is shown to be very sharp, as he was able to deduce Miley was Hannah Montana through observation.
Appearances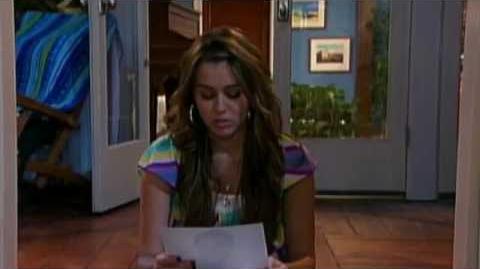 Ad blocker interference detected!
Wikia is a free-to-use site that makes money from advertising. We have a modified experience for viewers using ad blockers

Wikia is not accessible if you've made further modifications. Remove the custom ad blocker rule(s) and the page will load as expected.