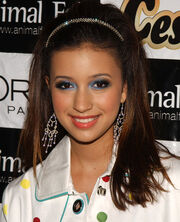 Christian Marie Serratos (born September 21, 1990) is an American actress. She appeared in Season one episode The Idol Side of Me where she played Amber's Friend Alexa.
She is known for her Roles in Cowbells.Ned's Declassified School Survival Guide and The Twilight Saga Films.
Related links
Ad blocker interference detected!
Wikia is a free-to-use site that makes money from advertising. We have a modified experience for viewers using ad blockers

Wikia is not accessible if you've made further modifications. Remove the custom ad blocker rule(s) and the page will load as expected.